---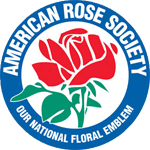 Proudly affiliated
with the
American Rose Society

---

Disclaimer:
While the advice and information in this web site is believed to be true and accurate, neither the authors, officers, nor members can accept any legal responsibility for any errors or omissions that may have been made. BGRS makes no warranty, expressed or implied with respect to the material contained herein.
A Bit of History
2020 marks the 60th Anniversary of the organizational meeting of the Bowling Green Rose Society. After several months of research an Anniversary Edition of Rosebuds was prepared by Mary Ann Hext. Click here to read more about BGRS history.
On May 22, 2021, the Bowling Green Rose Society will hold its 56th rose show. The first show was held on September 30, 1961. Mr. and Mrs. Paris Pillion won Queen of the Show with Kaserine Auguste Victoria. Due to extreme spring weather, the rose shows were cancelled in 2007, 2013 and 2018. The 2020 rose show was cancelled due to Covid-19.

Alina Lane, Society Editor of the Park City Daily News, wrote a sterling article about the show. She reported that: "Twenty-four exhibitors placed 178 entries in the rose show Saturday which local and out-of-town judges termed 'one of the loveliest shows they had ever seen.' The guest register listed 175 guests from Bowling Green and surrounding areas who called between the hours of 1:00 and 8:00 p.m. at the First Christian Church." This event, which was the first major effort by the newly formed Bowling Green Rose Society, remains to this day the largest annual event on the society's calendar.

The effort to form a rose society in Bowling Green had begun at 7:30 p.m. on November 28, 1960, when a group of approximately 25 men and women met at Snell Hall on the Western Kentucky University Campus. These interested rose growers heard a talk on roses given by Mr. Charles Dawson of Louisville. (Ed. Note: Mr. Dawson was the author of "Uncle Charlie's Corner," a regular feature in The American Rose for a number of years.) Mr. Haywood Brown was chosen as temporary Chairman.

The first regular meeting of the new local society was convened on January 9, 1961, again in Snell Hall. Mr. Brown was elected the group's first president. The treasury began with a balance of $29. As noted above, it was less than a year later that the first rose show was presented.

The original ten members enrolled at this first meeting were: Dr. T. O. Hall; Mrs. Earl Rabold; Mr. Claude Rose; Mr. Paris Pillion; Mrs. Richard Peete; Mrs. J. C. McCubbin; Mrs. Edith Kolair; Mrs. Opal Kirk; Mrs. Tena Borders; and Mrs. John Collet.

Some of this information came from a program presented to the Bowling Green Rose Society on September 10, 1994, by Jim Bennett and some from Paris Pillion, the only living charter member of the BGRS.
Early photograph of BGRS members from the 1960s at the garden of Mr. & Mrs. Paris Pillion who are standing at the left. Kneeling is Bill McMahon, leaning behind him is Pearle Rose, mother of Claude Rose (the photographer), Mr. and Mrs. Skip Henderson are standing, on their left side is an unknown woman, next is O. L. Kirk is in plaid shirt and Mrs. Kirk is kneeling, then an unknown man, Dorothy McMahon is at far right. (Photo McMahons)
BGRS Past Presidents
1961 - Haywood Brown
1962 - Claude E. Rose
1963 - O. L. Kirk
1964 - O. L. Kirk
1965 - Paris Pillion
1966 - Unknown
1967 - Unknown
1968 - Unknown
1969 - Unknown
1970 - Unknown
1971 - Zach Nusz
1972 - Unknown
1973 - Louis Holzapfel
1974 - Louis Holzapfel
1975 - Unknown
1976 - Unknown
1977 - Unknown
1978 - Unknown
1979 - D. James Hicks
1980 - Unknown
1981 - Evelyn Lockwood
1982 - Roy Almond
1983 - Gladys Holzapfel
1984 - Gladys Holzapfel
1985 - Roy Almond
1986 - Dr. William McMahon
1987 - Claire Russell
1988 - Tom Poole
1989 - Tom Poole
1990 - Tom Poole
1991 - Robert Toohey
1992 - Roy Almond
1993 - Dr. Jack Scott
1994 - Dr. Jack Scott
1995 - Bob Toohey
1996 - Bob Toohey
1997 - Dr. Kent Campbell
1998 - Dr. Kent Campbell
1999 - Dr. Jim Bennett
2000 - Dr. Bill McMahon
2001 - Ann Jacobs
2002 - Ann Jacobs
2003 - Bob Jacobs
2004 - Bob Jacobs
2005 - Kathy Dodson
2006 - Kathy Dodson
2007 - Georgia Snyder
2008 - Georgia Snyder
2009 - Bob Jacobs
2010 - Bob Jacobs
2011 - Kathy Dodson
2012 - Brenda Coffey
2013 - Brenda Coffey
2014 - Mary Ann Hext
2015 - Mary Ann Hext
2016 - Ben Matus/Mary Ann Hext
2017 - Bob Jacobs
2018 - Bob Jacobs
2019 - Ricky Lockhart
2020 - Ricky Lockhart